LIQUIDATION AUCTIONS
Via Trading holds live liquidation auctions twice a month at its Los Angeles, CA facility. Liquidation auctions feature a wide range of product categories, conditions and lot sizes, and typically welcome over 200 wholesale buyers each month.
Certain types of products may be most appropriate for
liquidation through Via Trading's bimonthly live auctions
.
Ship the goods to Via Trading's facility for processing and re-packaging into auction lots as appropriate.
Items must be received at least 10 days before the next auction to be included in that particular auction.
Liquidation auctions are held on the 1st and 3rd Thursdays of every month.
Important!
We do not charge a buyer's premium at our auctions.
Auctions are conducted with NO RESERVE PRICE.
There is no guarantee whatsoever of obtaining any specific recovery for the lot once it is placed at auction.
3rd Party Customer Return Items are listed as "Defective" at our auctions.
Items sent to us to Liqudiate through our auctions may be subject to reprocessing & repackaging as we see fit
A full report of sales made will be available in the online portal within 24 hours after the auction. You will also receive emails about each sold lot.
Your payment will be sent out the Monday following the auction for all lots that were sold at the auction and paid in full.
LiquidateNow will receive a commission on the selling price. Commission rates for Option 3 are from 30% of sales price. Higher commission rates are charged for more complex liquidations – especially those requiring extensive labor or packaging needs. Exact commission rate will be specified in the proposal and agreement.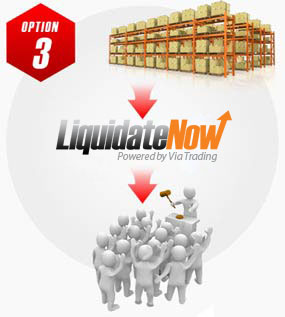 Lots that have been liquidated with this option:
Wholesaler



$28,728 Recovered
Qantity

103 Pal

Price

$278.91

FOB

Los Angeles, CA

Duration

Ongoing
Retailer



$75,963 Recovered
Qantity

823 Pal

Price

$92.30

FOB

Los Angeles, CA

Duration

Ongoing
Wholesaler



$103,032 Recovered
Recovery %

Various

Qantity

441

Price

$233.63

FOB

Los Angeles, CA

Duration

Ongoing